Raccoons are some of the most common, yet some of the most resourceful and clever critters that we regularly address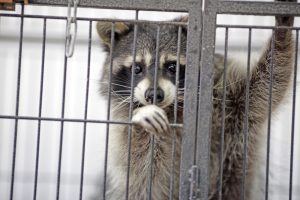 here at Critter Control® of Fort Worth. As our city continues to grow, raccoons are becoming more common; breaking into garbage cans and seeking shelter within homes and businesses. Raccoons are carriers of dangerous infectious diseases, so it's imperative to seek help right away if you suspect a problem.
Why Extermination?
While we always strive to utilize humane relocation methods wherever possible, some situations call for more traditional methods of removal. The aggressive behavior of raccoons when cornered, along with their potential for carrying disease often makes extermination the safest option for you and your family.
Our technicians utilize a 4-step approach to resolving raccoon issues:
Inspect – When you call to schedule a free home inspection, one of our technicians is dispatched to inspect your property for entry points and to determine how severe your raccoon problem is.
Remove – After we work with you to develop a plan that suits your specific needs, our technicians use the most effective techniques available to ensure that every last raccoon is removed from your property.
Repair – Once the offending critters are removed from your property, our technicians are able to clean-up and repair any damage caused during their stay. We know raccoons can make quite a mess, but we'll make it look like nothing ever happened.
Exclude – Our final step is to seal up the entry points used to gain access to your home so that raccoons are not an issue again in the future.
Call the Experts
Raccoon problems should not be taken lightly, and we strongly advise against attempting to resolve an issue on your own. If you suspect that you may have a problem, call the raccoon extermination experts at Critter Control® of Fort Worth today at 469.805.6267. We're happy to answer any questions, or to set up your free home inspection.